Personalities from Kurtatsch and Margreid
Angelika Nikoletti (1905-1930):
Alto Adige teacher who supported the Katakombenschulen (catacomb schools) during the Fascist era. Her birthplace is in Grafengasse in Margreid and her secret schoolhouse was located in Mariahilfgasse in Kurtatsch.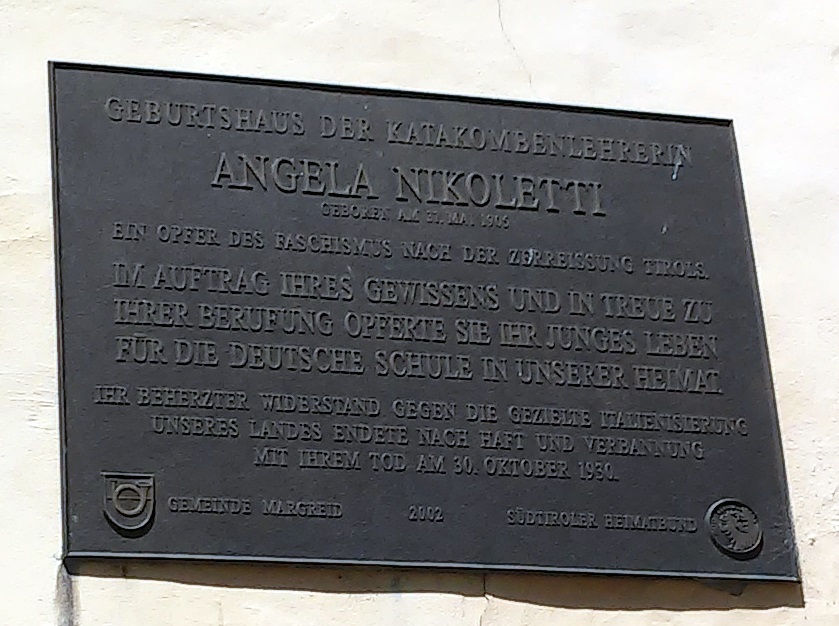 Karl Anrather (1861-1893):
Professional painter – His birthplace is in the Karl-Anrather-Straße in Margreid, named after him.
​
Karl Felderer (1895-1989): Author of the "Bozner Bergsteigerlied" ("Wohl ist die Welt so groß und weit"), the unofficial hymn of South Tyrol.
Gilbert Heidegger (1872-1956): Landscape painter of Tyrol and Alto Adige.
Franz Philipp von Fenner zu Fennberg (1759-1824): Lieutenant field marshal of the Austrian army. He was the owner of a regiment of hunters ("Tiroler Fenner Jäger") which is considered to be the foundation stone of the Tyrolean Kaiserjäger. His birthplace is in Unterfennberg/ Margreid.
​
---
Stefan Paluselli OCist (1748-1805): Cistercian priest and church musician, choirmaster at Stams Abbey. His varied work is almost exclusively preserved in his home monastery. A monument erected in his honour stands at the Hptm.-Schweiggl-Platz in Kurtatsch.
Otto Tiefenbrunner (1902-1972): Austrian lawyer and resistance fighter in the "Antifaschistische Freiheitsbewegung Österreichs" (Antifascist Freedom Movement).
---